Carpentry & Remodeling Services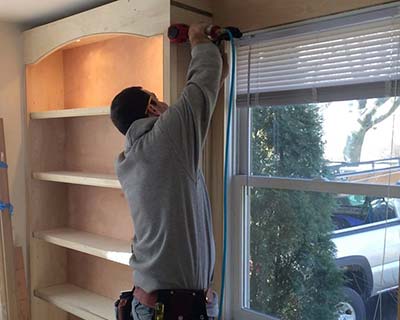 At Claudio J. Diiorio Carpentry & Remodeling, we offer superior kitchen remodeling services and can handle start-to-end projects expertly. Our company is customer-oriented and works hard to provide customized services to clients.
With over 15 years of experience in the industry, we have the skills, expertise, and resources needed to handle every aspect of your kitchen remodel perfectly. Our commitment to quality and professionalism has made us a much sought-after company in this field, and we cater to clients in and around Newtown, CT.
Kitchen Remodel
One of the best ways to improve the appearance and functionality of your kitchen is to get it remodeled after a few years of installation. This job should always be handled by experts in the field like us. We offer superior quality kitchen design and installation services. As an experienced operator in this industry, we can handle every aspect of your kitchen renovation job to industry standards. Whether you need your countertop layout changed, storage installation, cabinetry design, and planning, lighting installation, or plumbing installation done, we are the company that can help with the best services at affordable pricing. Read More About Kitchen Remodel >>
Bathroom Remodel
Bathroom spaces and all the installations in them tend to see a lot of wear and tear over time. The features start to look old or deteriorate quickly because of exposure to water, steam, dirt, and moisture. However, we can provide you with reliable and efficient bathroom remodeling solutions. Our team of experts is here to provide you with designs and plans as well as handle the installation work to industry standards. Whether you want the flooring and walls tiled shower stalls installed, or the sink replaced, we can help you with the best solutions. We also handle all types of plumbing works, carpentry works, and electrical jobs as part of your bathroom remodeling project. Read More About Bathroom Remodel >>
Windows
Many old houses have wooden-framed or single glass-paned windows. Even if these are in good condition, they do not help with improving the insulation levels of your property, which affects its energy efficiency. If your existing windows need replacement, give us a call. Today, there are different types of window products available in the market, and we will handle the installation as per manufacturer instructions. The right kind of double-paned or triple-paned windows can go a long way in improving the energy efficiency of your property and helping you maintain a comfortable temperature in the indoor areas without straining your HVAC system. Read More About Windows >>
Doors
The doors on your property need to be sturdy and resilient to provide the right levels of security. Aside from this, you also want these features to be aesthetically appealing and complement the exterior and interior spaces of your home. We offer high-grade door design and installation solutions to residential clients. Whether you want and wooden and glass front door or need internal doors leading to various rooms, we can provide you with unique designs and plans. We use superior materials, and make sure that the installation is completed to industry standards, so you have resilient and durable doors for your home. Read More About Doors >>
Home Additions
If you feel that the existing space in your home is insufficient for your family's needs, you do not necessarily have to consider moving to a new location. Depending on the available area and the local council rules, you can build additions and extensions for your home. We provide the best home building solutions and can handle all types of addition design & build jobs for you. Whether you want a new bedroom, a second story or a home office installed, we can handle this job for you. We have extensive experience in the industry and provide the best solutions within your budget so that you get value for money. Read More About Additions >>
Decks
Many homeowners like the idea of getting a wooden deck installed on the property. Decks are a common outdoor living feature and could be the connecting space between various indoor areas and your yard or poolscape. We can design and plan the kind of deck you want, using materials such as wood, composite, aluminum, vinyl, etc. We can also design and plan an outdoor kitchen if you need that feature on your property. We handle this job expertly so that you have a stable and robust wooden deck that can endure exposure to the elements and last for many years, adding value to your home. Read More About Decks >>
If you are looking for the best home renovation and remodeling services, Claudio J. Diiorio Carpentry & Remodeling is the company to call. For any more information about our custom service offerings and how we can help with your next home improvement project, feel free to contact us at 203-648-7838. You can also send us your project details through this Online Form, and we will respond shortly.
Chimney Repairs
If your chimney is not working properly, you should not take any chances. It can affect the safety of your family and the efficiency of your home. The impact can be both financial and physical. We have years of experience in installing, repairing, and maintaining chimneys. Chimney leaks are among the most common chimney problems. They can be caused by many things and can damage the structure. Efflorescence, spalling, and crumbling are some of the common signs of leaks. Equipped with the right tools, skills, and experience, we can identify the leaks, fix them, and prevent future potential water damage.
Damage from elements, corrosion, and even pest damage can affect the flashing covering the area where your chimney meets the roof. We can repair the flashing if it is separated, shifted, or bent. The crowns and caps can deteriorate because of the elements or they may not be professionally installed. We can also fix this to prevent further leakage and water damage. We cover all types of chimney problems with our maintenance and repair services. Read More About Chimney Repairs >>
Structural Repairs
At CD Carpentry & Remodel, LLC, we offer our clients a full range of structural repair services. Some of our services include general repairs to home structures that are failing such as foundations, walls, beams, and roofing. We also offer foundation repair services and underpinning for cracking, sinking, and shifting issues. Our team of professional can also take care of any structural beam repairs such as fixing load bearing walls, beams, and roofing. Read More About Structural Repairs >>
We Provide Services to the Following Cities, Towns and Surrounding Regions of CT: