Interior & Exterior Trim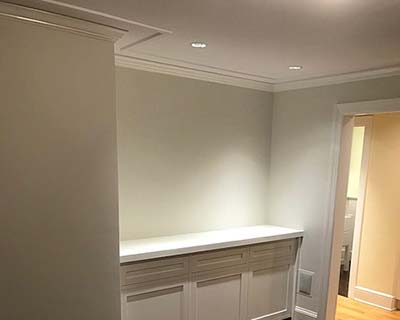 At Claudio J. Diiorio Carpentry & Remodeling, we offer superior interior and exterior trim services and can handle these projects expertly. As a customer-oriented company, we work hard to provide customized and personalized services to our clients.
With over 15 years of experience in the industry, we have the skills, expertise, and resources needed to handle every aspect of your interior and exterior trim installations correctly. Our commitment to quality and professionalism has made us a much sought-after company in this field, and we cater to clients in and around Newtown, CT.
Why Install Trim and Molding?
All of us want our homes to be perfect in terms of comfort and functionality, but specific features and installations improve the aesthetics and have a particular purpose as well. Interior trim is one such feature; it adds detail, depth, and elegance to any room and is available in various sizes and styles. We can design and install unique, window & wall trims to uplift the look of your home.
This decorative woodwork & molding can be applied to walls, windows, ceilings, and doorways. It adds dimension to all these surfaces and lends sophistication to the rooms. We understand that our clients want their homes to be easy to maintain and look attractive, and that is what our aim is in every project we handle.
Types of Interior Trim and Molding
Conventionally, trim used to be made of wood or plaster. But today, various man-made materials are also used to make trim and molding. While many property owners prefer wood crown molding, fiberboard, polystyrene, plastic and composite moldings and chair rails also used in some projects.
We can install a patio door and window trim in styles that will complement your replacement windows. Some options include prefinished paint, unfinished wood, and prefinished stain trim. For each of these styles, there are also curved trim options, which include:
Ranch
Craftsman
Colonial
Provincial
Types of Exterior Trim and Molding
The exterior trim is different from the one used in indoor spaces. It adds a unique architectural detail to the exteriors and façade of your home. As it would be exposed to the elements, the materials and finishes used are different, and you can choose from:
Prefinished aluminum trim in standard and custom styles.
Prefinished composite trim in a variety of colors and shades.
We can provide customized trim for angle-shaped doors or windows. Our expertise lies in delivering solutions that match the exterior paint and styling of your home. We can add custom exterior trim when you are getting replacement windows installed or even as part of a home improvement project.
We survey and assess the existing features before suggesting the types of trim that will work best for the interior and exterior surfaces of your home.
Cost-Effective Residential Trim Installation Services
We are here to guide your choices and provide you with the types of exterior trim installations that will enhance the appeal of your home and increase its value. You will also find that these stylish solutions come at an extremely competitive interior trim cost.
If you are looking for superior interior and exterior trim services, Claudio J. Diiorio Carpentry & Remodeling is the company to call. For any more information about our service offerings and how we can help with your next home improvement project, feel free to call us at 203-648-7838. You can also send us your project details through this Online Form, and we will respond shortly.
We Provide Services to the Following Cities, Towns and Surrounding Regions of CT: