Home Siding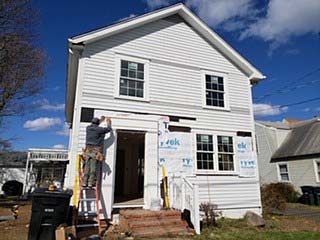 Siding is an integral feature in most residential structures. The quality and materials used in these installations affect not just the appeal of the property, but its value too. Siding installations are not a home improvement project you can take up on a whim, and it needs proper planning. For the siding to be durable and long-lasting, you need experts like us to handle the installation.
At Claudio J. Diiorio Carpentry & Remodeling, we offer superior siding services and can handle start-to-end projects expertly. Our company is customer-oriented and works hard to provide customized services to clients. We are the local carpentry contractors that handle projects of any scale and complexity. Whether you want siding for a new home or need siding replacement services for an existing structure, we are here to help.
With over 15 years of experience in the industry, we have the skills, expertise, and resources needed to handle every aspect of your siding installation correctly. Our commitment to quality and professionalism has made us a much sought-after company in this field, and we cater to clients in and around Newtown, CT.
Custom Siding Design Services
We never falter on the quality aspect and always ensure that the solutions offered add are cost-effective and improve the functionality, durability, and value of your home. When selecting a siding material, look for something that provides good weather-protection, looks stylish, is durable, and easy to maintain.
We recognize that these factors are essential, and it is why we have detailed discussions with you to understand your specific needs, preferences, and budget. We recommend the best quality residential siding that comes with extensive warranties.
Energy-Efficient Residential Siding Installations
The siding you select must endure exposure to the exterior climate, while protecting all the exterior walls. But you also want the siding to insulate these walls, which helps to maintain a more comfortable temperature in the indoor spaces. There are many energy-efficient siding products on the market, and we will provide you with all the information you need to make a better-informed decision.
Types of Sidings
The different types of residential sidings you can choose from include:
Board and batten siding works well for traditional structures. The boards could be made either of wood or fiber cement and are fitted vertically to the exterior walls.
If you prefer a more minimalistic look, you should opt for fiber cement siding. It creates seamless surfaces, and the panel lines are not visible because the individual boards are installed flush against each other.
Horizontal lap siding is also installed on many residential structures. These products could be made from wood, vinyl, cement, or aluminum, vinyl, and are available in a wide range of colors and shades, so you are sure to find something that complements the look of your home.
Wood strip siding looks stunning, but the material and installation costs are higher than the other materials. However, it is long-lasting and gives a good return on investment.
If you prefer a minimalistic look, fiber cement siding is an excellent option. It creates flat seamless surfaces where you can see the panel lines.
When you want high-grade siding design and installation services, Claudio J. Diiorio Carpentry & Remodeling is the company to call. For additional information about our services and how we can help with your next home improvement project, feel free to contact us at 203-648-7838. You can also send us your project details through this Online Form, and we will respond shortly.
We Provide Services to the Following Cities, Towns and Surrounding Regions of CT: